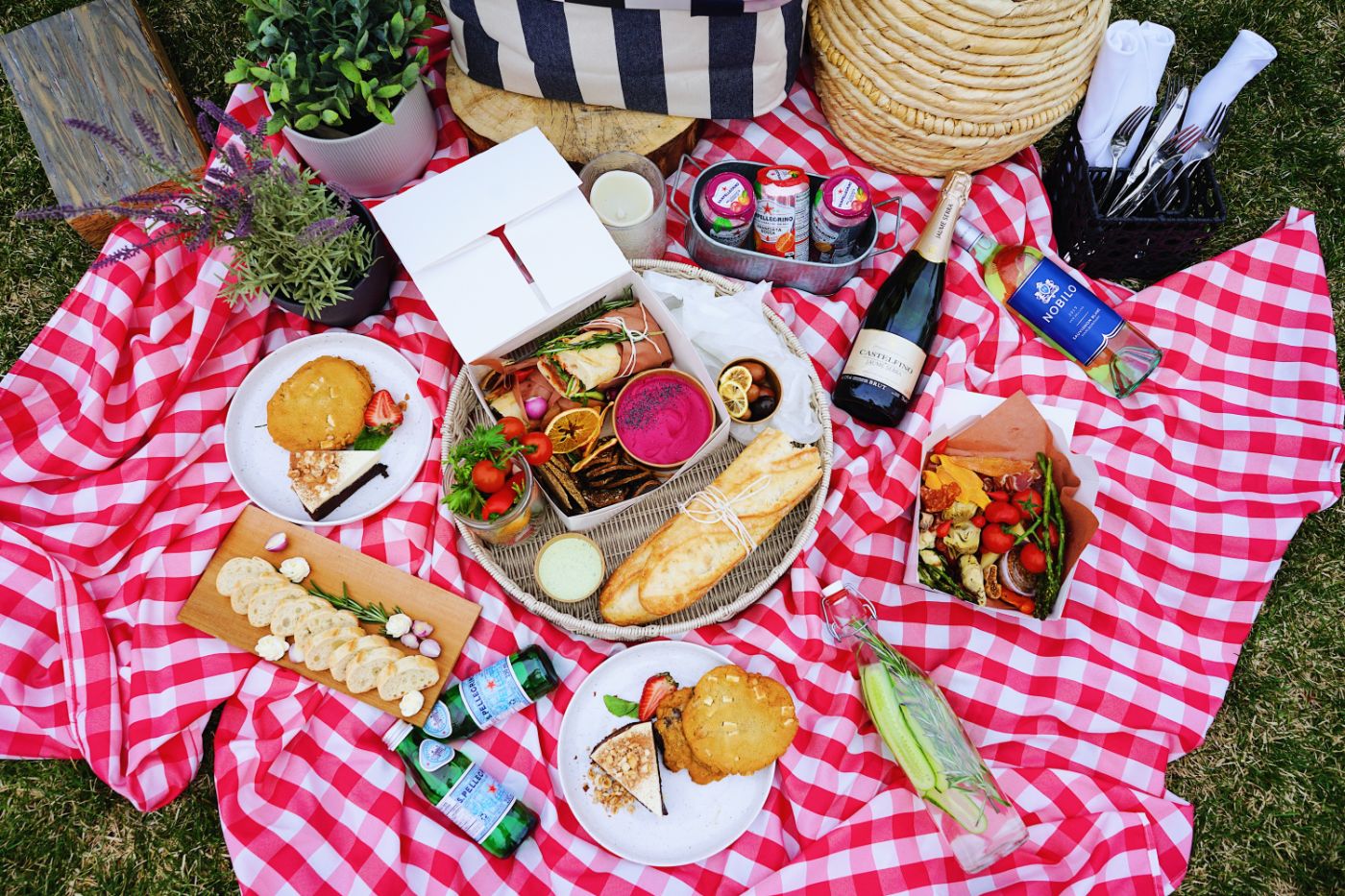 We are excited to welcome summer in Fish Creek Park with our new Al Fresco dining experience. Our insulated picnic baskets are packed with gourmet sandwiches, charcuterie, crudites and house-made desserts and can be picked up on Saturdays & Sundays. 
Picnic baskets can be enjoyed everywhere. If you plan to add some wine to your al fresco dining experience, we recommend heading down to Hulls' Wood where liquor consumption is permitted between 11:00 am to 9:00 pm. You can also throw a blanket down on our licensed lawn or backyard. We kindly request no outside food or drink. Please limit setups on our lawn to blankets and lawn chairs (if needed), no tables please.
Availability
Saturday and Sunday starting April 23. Pick up between 12:00 pm to 4:00 pm.
Baskets must be returned before 6:00 pm that day or a $200 fee will apply.
Delivery cost
Zone
below $40
$40 & above
A (within 15km)
$12
$5
B (15-25km)
$30
$12
beyond 25km
pickup only
Delivery Zone will be calculated at checkout once the address/postal code is entered.
At this moment only local pickup is available.
For any questions, you can reach us by phone
(403) 476-1310, or email us.
To select your desired order time, click on the date, pick from the available time slots and click the "Book now" button to add the time slot information to the order. In order to offer you an outstanding fine dining experience at home, your order will be ready within 30 minutes from your chosen time slot. For example, if you selected 5:00pm, your order could be ready anytime between 5:00pm and 5:30pm. The number indicates the available orders left for that particular time slot.
Tutorial
Select the month
Select the date
Select the time
Click "Book now"
Please inform us of any dietary concerns when ordering. We kindly request no substitutions unless it is related to an allergy. Thank you!
Picnic Menu
Crudités
with green goddess dressing
Artisan Cheeses and Charcuterie
with baguette
Beet Hummus
with house made rice crackers
Marinated Olives
Duck Confit Banh Mi Sandwich
Fresh Baked Cookies
Flourless Chocolate Cake
Fahr Hefe

$

3.45

The official Best Hefeweizen in the World, courtesy of the 2020 World Beer Awards! The beer itself is hazy with a medium body to it, smooth from start to finish. Taste the aromas of wheatgrass, white pepper, banana, and clove. 355ml

Fahr Pils

$

3.45

Fahr Pils is the 2020 World Beer Awards Canada Gold Winner for Best Classic Pilsner-Style Lager Beer! Fuller bodied with less hop and bitterness, this beer is filtered for clarity and has a crisp finish. The Pils maintains flavours of crackers, floral notes, and a slight lingering bitterness to cut through the initial sweetness of the malt used. 355ml

Fahr Copper

$

3.45

The 2020 World Beer Awards Canada Gold Winner for Best Vienna Style Lager and Silver in the Canadian Brewing Awards! This beer has a copper colour with flavours of toffee, caramel, and crackers. The Copper is the perfect beer to enjoy on any occasion. 355ml

Fahr Munich

$

3.45

Gold Winner in the 2020 Canadian Brewing Awards! This dark lager looks like a Guinness and drinks like a Pilsner! Taste notes of chocolate, coffee and dark fruit. The dark colour comes from a special debittered roasted malt that is used in the process of making the beer. 355ml
Join our Prime Fine Dining Club
Why become a member?
By becoming a member of our Prime Fine Dining Club you will find out first about our upcoming events, offers and important news and updates.
As part of the Prime Fine Dining Club, you will also enjoy exclusive discounts, front of line tickets to our sold-out events, previews of our new menus and access to our rewards program.